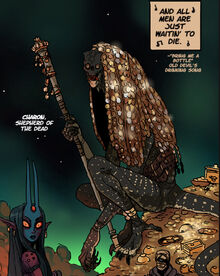 Charon, the "Shepherd of the Dead" is a green devil who joined Allison's band of thieves on the expedition into Mammon's fortress of Yre.
Charon dwells on the outskirts of the Red City of Throne. He has charmed or entranced shades of the dead to serve him as beggars and collectors of gold coin. This endeavor is a successful one, so successful Charon may be found sitting on a large pile of gold.
Charon served as the first guide for the Thieves of Yre as they made their way through a tunnel underground and broke into a remote wing of the Fortress.
Charon's design was part of a fan submission and further developed by Abbadon. Abbadon invited fans to participate in designing the gang of devil thieves and there were a multitude of designs submitted which may be viewed at : "The Infinite Devil Engine"
Charon's first appearance was in Seeker of Thrones 6-59
Community content is available under
CC-BY-SA
unless otherwise noted.