Welcome to the Kill Six Billion Demons Wiki,
Please note the content on this site isn't suitable for all audiences.
Featured Article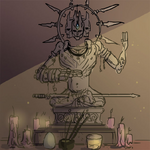 Atru is a monolatristic religion in the Kill Six Billion Demons universe. The dominant religion in Throne, Atru has several billion adherents and can be viewed as a way of life, rather than a strict collection of beliefs.

Followers of Atru believe that YISUN is the name of God, who has always existed and never existed. In addition to YISUN, Atru contains many other deities, most of whom can be found within the Psalms, the Spasms, and the Song of Maybe. More →



Resources
Glory to the Divine Corpse!
Latest Offering
KSBD 5:89-90
Live Update Feed
Loading RSS data...
External Links
Official Links
Unofficial Links
Community content is available under
CC-BY-SA
unless otherwise noted.