Rayuba is the capital world of the Celestial Empire. It is the home world of Solomon David.
History
[
]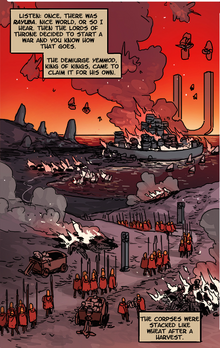 Before the Universal War, Rayuba was a peaceful, prosperous world. The famous martial artist, Musko Reeve, described Rayuba as "remarkably pretty" in his martial arts compendium, the Manual of Hands and Feet.[1] The Rayuban military, called the Rayuban Home Guard, may have operated on a system similar to Sparta, as Solomon David is mentioned to have originally been a "citizen-soldier" who owned a sizeable homestead. The world gave home to the Monks of the Silent Voice, a monastic order of peaceful warrior-monks who were the masters of Ki Rata, the most powerful style of martial arts in existence.[2]
During the Universal War, the demiurge Yemmod besieged Rayuba with his armies, and laid complete waste to it.[2] The population was killed, and everything valuable was extracted from the world, leaving it a barren husk.[1] Solomon David, who was trained in Ki Rata by the Monks of the Silent Voice during Rayuba's destruction, killed Yemmod and seized his Key for himself, becoming a demiurge. He then joined the Universal War in an effort to carve out his own empire.[3]
At some point during or after the Universal War, Rayuba was rebuilt into a shining, prosperous world full of beautiful architecture, and made the capital of the Celestial Empire.[3]
Features
[
]
The world of Rayuba gives place to Solomon David's palace, as well as the stadium of the Ring of Power.[4]
There are two suns in Rayuba - Solomon claims to have put these in the sky by himself, to replace the world's original, single sun, which was destroyed by Yemmod's armies.[5]
References
[
]